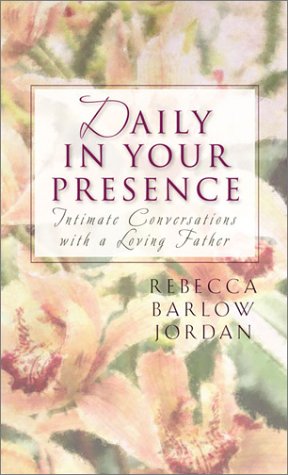 Your heavenly Father longs to spend time with you. Best-selling devotional with meditations–one for every day of the year–focus on the names and charactistics of our wonderful Father and prompt a grateful response from your heart. Spend time daily in His presence…know Him more deeply…enjoy your loving Father as He enjoys you.
About the Book
This 365-day daily devotional is based on the names and attributes of God. From "Alpha and Omega" to "The Amen," readers move through a one-year study of the beautiful character of the triune God. Each day's devotion begins with a Bible verse (KJV or NIV) and is followed by a brief thought "From the Father's Heart." A model prayer, a practical application of the passage, and a quotation round out each day's selection. Readers will be inspired to begin their own intimate conversations with the loving Father.
Endorsements
I love the format of Rebecca's new book. Words from the Father's Heart to the reader's heart, then time to reflect, which we all need. My favorite part is Simple Truth. This short statement is worth pondering and writing down, so your life and internalize the simple truth. Another winner by Becky!
– Esther Burroughs, Speaker and Author of Empowered and Splash the Living Water
Rebecca Barlow Jordan has written a series of touching and tender colloquies that lead the reader deeper into the Abba experience.
– Brennan Manning, Author of The Wisdom of Tenderness
For several years I have been fascinated by the seemingly limitless names for our Father that I've found in God's Word. It was with delight, then, that I found Daily in Your Presence. Rebecca Barlow Jordan leads the reader daily to a new insight about the character of God, and I recommend her book to those who are yearning for a more intimate relationship with Him.
– Janet Holm McHenry, Author of Prayerwalk
Reading Daily in Your Presence is like walking through a soft, refreshing early morning rain. I experienced God's love washing over me, His hand gently guiding me, and His principles providing renewed perspectives on everyday activities. This is a book I will treasure personally and a gift I will purchase for my friends.
– Carol Kent, President, Speak Up Speaker Services, International Speaker and Author
"The presence of God is life's highest goal for the believer. Here is a book that will aid any sincere Christian in attaining that goal. Rebecca Barlow Jordan has given us a practical and inspiring volume on that subject, and I highly recommend it to anyone who would seek God's daily Presence.
– Lewis A. Drummond, Billy Graham Professor of Evangelism, Samford University
Other Books in "Daily in your Presence Series"
Disclosure of Material Connection: Some of the links in the page above are "affiliate links." This means if you click on the link and purchase the item, I will receive an affiliate commission. I am disclosing this in accordance with the Federal Trade Commission's
16 CFR, Part 255
: "Guides Concerning the Use of Endorsements and Testimonials in Advertising."